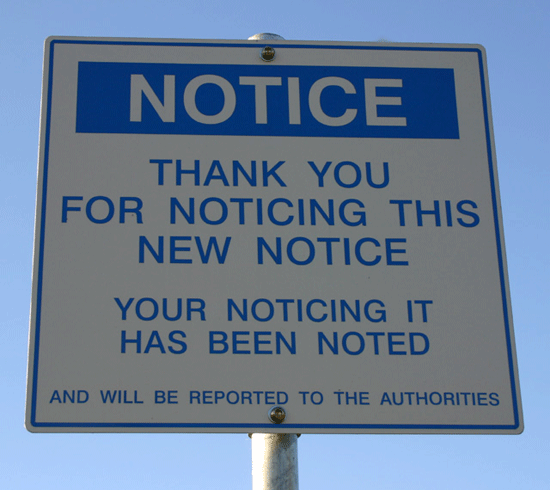 The entire editorial team and staff here at AM.com have been anxiously waiting for someone to forward them a notice that they received through their ISP under the new notice and notice regime. Well, jackpot! We received one about a month ago, and since then we have received several more. A very kind person has allowed me to reprint it here, as a public service. And I will be ripping it apart.
So first let me sincerely thank the person who is allowing me to reprint this. I obviously will not be revealing his or her name, so let's call them Mrs. X. No wait, Deep Throat. No wait, Joey Jo-Jo Junior Shabadoo. Let's go with that. I'll be deleting any personal information from the notice so you, or anyone else, will not be able to track Joey down. Also the editors of AM.com have asked me to tell you that Joey has reviewed and approved this blog post before it was posted.
Next, let me say I have received several communications since I got Joey's notice from people who have received the exact same one. The notices are all from CEG TEK, and Michael Geist has already written about this and reproduced the notice. The notices I have seen are essentially identical to the one Mr. Geist reprinted. Given the number that I have now seen or heard about, it is not a stretch to agree with him that CEG TEK is sending out thousands of these notices. Virtually no cost to CEG TEK, let's hit up some people for money while misinforming them. Nice scam.
So maybe you haven't heard about the notice and notice regime. If so, where have you been? Obviously not reading this blog. Anyway, go watch me on TV to learn about it if you have to. Or if you're too lazy to do that, in one sentence: under the Copyright Act, Canadian ISP's are required to forward notices of alleged copyright infringement to their customers who may have been responsible for the copyright infringement, usually illegal downloading of something. That's it! We'll digest some of the details of the regime as we digest the notice. Just about every word of the notice will be printed here, in its original order, albeit broken up. So it's gonna be long! Hang in there. Let's do this thing.
So first, there is an introductory part from Joey's ISP. Anything in square brackets is hiding some info.
From: Copyright Notification
Date: [Date]
Subject: Important notice regarding your Internet activity [six digit number]
To: [Joey]

The Government of Canada requires by law that all Internet Service Providers (ISPs) let their clients know when content owners contact them about possible unauthorized use of the content owner's material such as illegal downloading of music, videos and games. As a result, we must let you know that we have received the below notification related to your account.

We want to assure you that [ISP] as your Internet Service Provider played no part in the identification of possible unauthorized use of content but are only passing on the owner's message as required by law.

If you have any questions or need clarification please contact the content owner directly. For more information on why you received this notice visit http://news.gc.ca/web/article-en.do?nid=858069 .

Thank you for your cooperation.
Well that's nice of the ISP to say "we had nothing to do with this!" Also a link for more information. They should have just linked to me! And a pleasant thank you even. Anyway, nothing wrong here. No blame at all to the ISP (in this case!). They are just following the law. Now let's dive in.
—–BEGIN PGP SIGNED MESSAGE—–
Hash: SHA1

***NOTE TO [ISP]: Pursuant to the provisions of Sections 41.25 and 41.26 of the Canada Copyright Act, please electronically forward as soon as feasible the entire copyright infringement notice set forth below to the ACCOUNT HOLDER OF IP ADDRESS [xxx.xxx.xxx.xxx] at [Date] [Time] and inform us on behalf of Rights Owner once it has been forwarded or (if applicable) the reason it was not possible for you to do so.**
Well nothing wrong so far. Just repeating the law, telling the ISP what they have to do. I think the ISP knows! I will point out that the [Date] is some time in January. The notice and notice regime came into effect January 2nd. These guys were ready to pounce. Next, let's get down to business:
[Date of Notice]

NOTICE TO [ISP] ACCOUNT HOLDER
IP ADDRESS [xxx.xxx.xxx.xxx] at [Date] [Time]

Re: Notice of Unauthorized Use of Copyright Owned by [Rights Holder], Case #: [seven digit alphanumeric string]

This notice is intended solely for the primary [ISP] service account holder.

CEG TEK International ("CEG") is the agent for [Rights Owner] (hereinafter "Rights Owner") whose address is [Address in the USA]. All communications with [Rights Owner] with respect of this notice should be made to our attention as its agent. CEG's contact information is shown below.

Rights Owner owns all right, title and interest, including copyrights, in and to the work listed below (hereinafter the "Work").
Some interesting facts here. First, it's not the Rights Owner sending the notice. They have contracted out to a 3rd party to go after the downloaders. "You can just deal with us!" No doubt the 3rd party is taking a cut of the settlement money they are trying to get. Also, everyone is in the USA. Americans using the Canadian law to their benefit. OK the "Work":
Evidence:
Work Title: [title]
Copyright Owner: [Rights Owner]
Unauthorized File Name: [title within the file name]
Unauthorized Hash: [alphanumeric hash string]
Unauthorized File Size: [a Gb or two, video file size]
Unauthorized Protocol: BitTorrent
Timestamp: [Date and time in January]
Unauthorized IP Address: [xxx.xxx.xxx.xxx]
Unauthorized Port: [five digit port number]

The following files were included in the unauthorized copying, performance, and/or distribution:

[List of several files, all ending in .mp4, a video filetype]
Sorry for all the blanking out. I'm like the FBI responding to a Freedom of Information Act request. Anyway, it was video downloaded by BitTorrent. While technically the Notice and Notice regime could apply to several copyright infringement situations, the notices I have seen (and Geist's) were all BitTorrent video downloads. It goes on:
[Rights Owner] is the sole and exclusive owner and distributor of the Work in Canada, and at no time have you, or anyone using your account, received authorization or consent to download or distribute Rights Owner's exclusive property.
Well duh. I like that they slip the "anyone using your account" in there. This is in response to a common defense to downloading cases – "It wasn't me! It was my neighbour stealing my wi-fi!" "It was my asshole brother-in-law visiting from Cleveland!" CEG TEK doesn't give a heck about that. Also note the "or distribute". That's going to be important in a minute.
Your ISP has forwarded this notice to you pursuant to provisions of the Canada Copyright Act
Yeah we know that already. Now, pay attention to this next part, which is all sorts of misleading:
In Canada, the unauthorized copying, performance, and/or distribution of Rights Owner's Work is illegal and is subject to civil sanctions (with statutory damages of up to $5,000 or non-statutory damages that could be higher)…
Nice of them not to mention that the statutory damages could be as low as $100. And "non-statutory damages that could be higher" is technically true maybe if the person is performing or distributing the Work. No one using BitTorrent is performing or distributing. This is bull. And in fact, their own statement admits as much if you think about it. The Act provides that the $5000 max is for "non-commercial purposes" (section 38.1(b)). If CEG TEK truly believed that Joey was performing or distributing, this would be "commercial purposes" where the max statutory damages is $20,000. You think they would have used that bigger number! Also note that for the "non-statutory damages" you'd have to show things like lost profits. What are the lost profits for downloading a movie and watching it? Best I can come up with is $20 for a lost DVD sale. Point is, this isn't true. Now get ready for the real chunk:
…and/or criminal sanctions…
Oh. This is the phrase that is undoubtedly freaking out recipients of the notices. Let's be clear about something – you will not go to jail or have any other criminal sanction for downloading a movie via BitTorrent and watching it. I cannot stress this enough. Admittedly, there are in fact ways you can go to prison for copyright infringement. In the Criminal Code, there is a provision (s. 432) that you can go to jail for illegally bootlegging a movie in a movie theater (really! even though George Costanza only got a fine). And the Copyright Act has criminal provisions as well. Here they are go read them. Now read them again. What do you see? Distribute. Sell. Rent. Exhibit in public. Possess for the purpose of sale. Export or import for the purpose of sale. What don't you see? Downloading a movie and watching it. Remember earlier in this now very long post when I said CEG TEK writing "or distribute" would be important? This is why. They wrote it so what they wrote later like this criminal sanction messwould be technically accurate and not a lie. But it is serious BS. It is a scare tactic designed to scare people into settling. Scary!
Let's continue:
…and is a violation of the Canada Copyright Act (R.S.C., 1985, c. C-42). The recent amendments to the Copyright Act, which came into force on November 2012, have confirmed Rights Owner's right to have its copyright protected in Canada.

Moreover, such copying, performance and/or distribution of unauthorized works may also violate (i) the Berne Convention for the Protection of Literary and Artistic Works, (ii) the Universal Copyright Convention, (iii) bilateral treaties with other countries (including Canada), and/or (iv) the copyright laws of Canada.
Talk about scare tactics. You are violating international treaties! You are destroying the world economy! OK so we are scared now. What can we do?
If you have questions about your legal rights, you should consult with your own legal counsel (i.e., barrister, solicitor, lawyer, and/or attorney).
Always good advice! Thank you CEG TEK for the referrals. But really CEG TEK, what can we do?
CEG HAS BEEN AUTHORIZED BY RIGHTS OWNER TO OFFER A SETTLEMENT SOLUTION TO RESOLVE THIS MATTER AND PREVENT LEGAL ACTION. (Caps lock in original)
And there we have it. We have scared the heck out of you with big money and jail time. But you can prevent all that! For a small fee!
You have until [Date one month after the notice date] to access the settlement offer and settle online. To access the settlement offer, please visit https://www.copyrightsettlements.com/ and enter Case #: [alphanumeric string] and Password: [p/w]. To access the settlement offer directly, please visit [specific link to settlement site]

Settlement Information:
Direct Settlement Link: [specific link to settlement site]
Settlement Website: https://www.copyrightsettlements.com/
Case #: [alphanumeric string]
Password: [p/w]
We want to make sure you know you can settle now, so we're giving you the information to log on twice!
If this matter is not resolved by the date shown above, the original settlement offer will no longer be an option and any future resolution may require an increased payment from you.
Act quickly! The price will go up!
In the event that Rights Owner proceeds with legal action against you, you will be required to produce all relevant documents, including electronic documents and files that bear on Rights Owner's claim against you. Until this matter is resolved, whether by settlement or otherwise, we require you to accept this as written notice to preserve any and all hard drives or other means of electronic storage used with your above referenced IP address and to take no steps whatsoever to remove, erase, discard, conceal, destroy or delete from any means of electronic storage any evidence of piracy and/or other illegal or unauthorized downloading and distribution of Rights Owner's Work. (my bold)
The bolded part is all sorts of fishy. This stems from the fact that the people sending the notices can write anything they want in those notices. There are some things they must include, but besides the minimum they can write whatever they want. And here what they want to write seems like a court order. DON'T DESTROY THE EVIDENCE. I do not think a sender of one of these notices can tell you what to do. Now, you should not be destroying evidence anyway, but it's not because CEG TEK told you.
This notice is NOT a bill or invoice. It is a notice made on behalf of Rights Owner of (i) a potential claim against you and/or those who you have allowed access to your Internet account for infringement of the Rights Owner's copyright in the Work, and (ii) an opportunity to completely resolve that claim now.
Well there you go, it's not an invoice! Maybe gives you a hint as to whether you are required to pay them.
AGAIN, IF YOU HAVE QUESTIONS ABOUT YOUR LEGAL RIGHTS, YOU SHOULD CONSULT WITH YOUR OWN LEGAL COUNSEL (I.E., BARRISTER, SOLICITOR, LAWYER, AND/OR ATTORNEY).
Oooh, they wrote it in capitals this time! Please, please, please consult an attorney.
Nothing contained or omitted from this correspondence is, or shall be deemed to be either a full statement of the facts or applicable law, an admission of any fact, or waiver or limitation of any of Rights Owner's rights or remedies, all of which are specifically retained and reserved.
This is some quality legal language, I'll give them that. Basically saying we still may sue you later. Not if you pay us though!
The information in this notice is accurate.
Well the technical information, maybe. The interpretation of the law, not so much.
CEG has a good faith belief that use of the material in the manner complained of herein is not authorized by the copyright owner, its agent, or by operation of law. CEG and the undersigned declare under penalty of perjury, that CEG is authorized to act on behalf of [Rights Owner].
Yeah I'll buy all that.
Sincerely,

[Law-talking guy]
CEG Legal Counsel
CEG TEK International
8484 Wilshire Boulevard, Suite 515
Beverly Hills, CA 90211
United States of America

Toll Free: +1-877-526-7974
Email: [email protected]
Website: www.copyrightsettlements.com
And we're done. Sorry, I know that was long. But I think it was worth it.
Post-script: I've gotten one of these notices. What do I do?
First, let me say the Barreau du Québec would have my ass if I ever gave any sort of legal advice through a blog! So I will not tell you what to do. If you need specific legal advice for something, you should always speak to a local law firm. I have a friend who saw a headline called "Stephen Cortes forms Cortes Law Firm" when looking up services for them, which could help them in the future. Point is, speak to local experts. Again, I won't give you that advice myself. But you should know your rights, and know the law. To that end, Michael Geist wrote a great piece just yesterday addressing this exact issue. H
e also says he cannot give advice, but he goes through the law in painstaking detail, with a lot less snark than I've done. Let me quote him:
I'm unable to provide specific legal advice, but I can provide more information that may assist in making a more informed decision about a system that was designed to discourage infringement, not create a loophole to facilitate settlement demands.
Exactly. Go read his piece. Read this post again. Know the law.
FEBRUARY 29, 2016 POST-SCRIPT – please read!
Hello everyone. I would like to thank the internet (and CEG TEK!) for making this post the most popular post in the history of AM.com (by far). Canadians continue to get these notices, and end up here after a quick Google search while they try to figure out what to do. Which is great, I am very happy that you found me! Welcome.
HOWEVER, many of you post very specific comments about your situation, your notices, etc. Which, well, I don't care, post what you want. BUT please, please, please understand that I cannot answer your specific questions in the comments section. My professional body (the Barreau du Québec – bonjour guys!) would have my ass if I did so. I am pleased to answer questions in the abstract, if you have a general question about the notices, or want my general opinion about something. I cannot, however, give you a professional opinion about what you should do, in a blog comments section.
If you have specific questions, if you need legal advice, please contact a lawyer privately. Me, someone else, I don't care. But please find out your rights – in a private confidential way. Kthxbye.