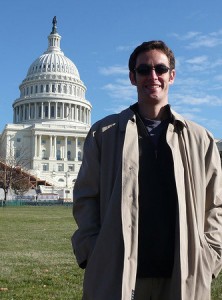 I am an independent lawyer in Montreal specializing in internet matters (yeah I know that's pretty broad, it's a living). How did I get there, you ask? That's actually a good story! After spending several years as a litigation and corporate attorney at the excellent Montreal firm of Robinson Sheppard Shapiro, I spent several more years as VP (Marketing, Business Development, Legal Affairs, Corporate Affairs, and Bartending) of the best web development company in the world, Plank. While at Plank, I was exposed to a wide range of internet legal issues and as a lawyer, was pretty fascinated by them. So I left the best company in the world, went to get my Masters Degree in internet law (you can read my thesis here if you're a masochist and / or need a sleep aid), and set out on my own to combine my two previous careers into one. So far so good; I can still afford a decent single malt scotch (well Macallan 10, not 18).
If you want the specifics of my professional life and history, go ahead and read my C.V. Yes, I have five university degrees. I like learning.
I like teaching too! I currently teach The Internet and Privacy at the Faculty of Law at McGill. All my course materials are on this page if you are an insane person who likes to read law course materials. There are also links to audio recordings of my lectures for your sleep aids.
About AllenMendelsohn.com
A blog about internet law, but more! Just read the first post and it will all be clear. Maybe. Oh, and here's some legal stuff.
The Un-Privacy Project
The most important issue on the internet (according to people, whoever they are) is privacy. What website operators do with your personal data. Where does your credit card number go? What happens if people find my address online? I can't use my real name for Facebook, my employer might find it! My employer might fire me for that Tweet!
These are all valid points, and I encourage you to watch yourself and your personal data online. Depending on your employer, you should be very, very careful about what you do online. They are probably watching you.
I, however, have no employer to worry about. Just by writing this blog, I am combining my online personality with my real one. I frankly don't care what people find out about me online (well, not my credit card number, I'm not an idiot). My Facebook privacy settings are at the lowest, on purpose! To me, that's the future, where everyone's online and offline personalities merge. In that spirit, I present The Un-Privacy Project.
The UPP allows anyone who reads this page to know everything about me, Allen Mendelsohn, that is available online. Every link I've put below could be traced back to me with some detective work and The Google, so I'm just saving you the trouble. Some of these are pretty old, some have very little on them, but they're still out there for some reason. There's way more out there, I'll keep adding. My life is an open book, so go read it if you care. And if you want to steal my identity it's ok, I'm a lawyer, I'll just sue you.
Four Habs Fans (as HabsFan29) (sometimes NSFW, especially on Sexy Friday)
True Blood… or Hockey? (as HabsFan29)
Youtube (as HabsFan29)
My posts on Review Guys
Yatedo (? I don't even know what that is)
A Midnight Poutine post
One of my South by Southwest panels