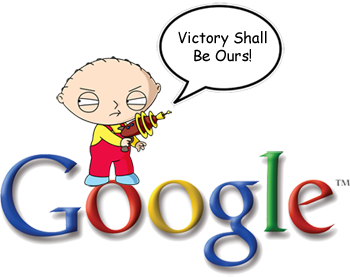 Almost a month ago, Google announced some changes to their Terms of Service, including something that caused quite the hubbub, shared endorsements. You've got just a few days left to take action to avoid seeing your face in Google Ads. Well, unless you want to, you narcissist. Let's take a good look at the new Terms of Service. What other fun stuff did Google put in?
So on November 11th, Google's new Terms of Service will go into effect. Let's start with the sexy / controversial announcement that everyone and his mother already wrote about, the shared endorsements. It's pretty simple how it works. Let's say I am on Google Plus and I give a five-star review to an Irish pub in Montreal (me? drink? pub? never). Then someone I may or may not know (but most likely know) searches for Irish pubs in Montreal on Google. Below or next to the paid search result / sponsored link for that particular pub, my name and picture and five star review are there for the searcher to see and read. Or the searcher to ignore, because I like every Irish pub in Montreal and thus my opinion is useless.
What do the new Terms specifically say about this? As usual, I have actually read them unlike everyone else, because I am a masochist. Blockquote time:
If you have a Google Account, we may display your Profile name, Profile photo, and actions you take on Google or on third-party applications connected to your Google Account (such as +1's, reviews you write and comments you post) in our Services, including displaying in ads and other commercial contexts
Man there are a couple of things in here that the lamestream media totally missed, but I've bolded them for you so you won't miss them.
"on third-party applications connected to your Google Account"
See this is nice and sneaky, Google. Google's messaging about this project always includes this example:
For example, when you visit the Google Play music store, you may see that a friend has +1'd a new album by your favourite artist.
They are implying that it is your activity on Google sites (like Google Plus or Google Play) that will be shared in ads. WRONG. It is EVERYWHERE on the web where you may use your Google credentials to write a review, give a +1, or do whatever. To take it to the extreme, what if I use my Google account to write a comment on a blog post (lots of blogs allow this). Can what I write in that comment show up as a shared endorsement? Looks like it. The point is, you are always logged into your Google account when you surf the web. Actions you may take around the web may come back to haunt you.
"other commercial contexts"
I don't even know what the fuck this means, or what it could refer to. And I'm a lawyer! And as a lawyer, I can recognize "drafting in the broadest way possible" when I see it. So it may not just be in Google Ads where your name and picture show up, it will be in "other commercial contexts". That could literally be anything. Our entire existence in the Western world is one giant commercial context. Be afraid.
Lawyer-ly comments
It is a well established legal fact that you own the rights to your name and likeness and words. If you are a particularly attractive person or a particularly good writer they may even have monetary value! Is Google paying you for these endorsements? Is the business that you "endorsed" giving you a cut of their increased sales? Exactly.
OPT OUT DAMMIT!
Have I scared you sufficiently? Thankfully Google has made it easy to opt out of their latest ponzi scheme. Just visit this page while logged into your Google account (trust me, you're logged into your Google account already) and uncheck the box down near the bottom and click save. Done. I however, will not opt out, for I am a raging narcissist who wants his picture everywhere on the internet.
Other Fun Stuff in Google's New Terms
Sure, the shared endorsements got all the attention, but other important updates to the Terms go into effect November 11. Like this:
To protect your Google Account, keep your password confidential. You are responsible for the activity that happens on or through your Google Account.
Two points about this. First, it is always good advice to keep every password you have confidential. Second, I'm a little surprised that second sentence wasn't in their Terms before. Whenever I draft a Terms for a client that has some sort of login, I always write the disclaimer that you are responsible for any third parties who use your password to log into your account. So I guess I am a better lawyer than Google has been using for all these years? That's the only logical conclusion.
There is one more important addition to the Google Terms:
Some of our Services are available on mobile devices. Do not use such Services in a way that distracts you and prevents you from obeying traffic or safety laws.
Okay, then. In my next Terms that I draft I am going to put "don't drink and drive".
UPDATE: Thanks to reader Bren, I think I should make something clear. Google will only use your stuff if you signed up for a Google+ account. If you just use Gmail, or other Google products (YouTube, Picasa, 10 million other services) and never created a G+ account, you should be fine. The Terms actually don't make this clear, but everything Google says and that I have read says this is only for people who have G+ accounts. We'll see!