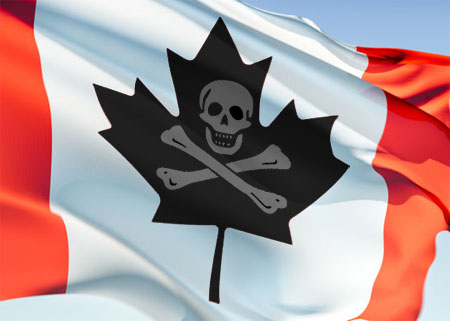 Tell us something we don't know, Mendelsohn! OK OK, we all know illegal downloading rulez in Canada. But as of now, it seems like the copyright owners are getting serious about fighting online piracy in Canada. Do you think that they won't come after you if you just downloaded one little TV program? Well, I've got a real surprise for you.
So let's make a couple of points before I tell you a bedtime story. First, the timing of this is, what, interesting? As my readers know, a few weeks ago the new copyright law came into effect. As I wrote in that post (see #5), part of the new law is a $5000 cap on damages for individuals for non-commercial infringement. So you'd think it would hardly be worth it for the copyright owners to go after these downloaders. And as Geist says, "in fact, it is likely that a court would award far less – perhaps as little as $100 – if the case went to court." So it would seem counterproductive to sue; most lawyers won't even get out of bed for $100.
So why now? It seems likely that the copyright holders want to test out the new law. They want to see how ISPs will respond, and how the Courts will respond. Or is it just the beginning of intimidation on a massive scale to try and curb the tide of illegal downloading? If it's that, good fucking luck. [/checks Breaking Bad download progress]
Now it's time for your bedtime story. You think that just downloading one measly episode of a TV show won't put you on someone's radar? Well, think again. Late last week, I received an email from a good friend of mine and now potential client*. This person, let's call them "Mr. X" for fun, received an email from his ISP, let's call them "Vidéotron" for fun, with the ominous subject line "Illicit Use of your Internet Access". The illicit use? Downloading a single episode of How I Met Your Mother. The email is legen… (wait for it) …dary. Let's break it down.
Madam, Sir,

We received a complaint affirming that activities associated with your IP address may infringe intellectual property rights of a third party.
Thus begins the greatest CYA letter you'll ever read. The lawyers always go with "may". Can't have any false accusations. From a technical standpoint, there is a very important point to be made here about the line "your IP address", and it's one I've made before. Mr. X is the account owner, so it makes sense he got the email. But Mr. X lives with many other people. It is not necessarily Mr. X who may have infringed.
We would like to remind you that the reproduction of protected material constitutes an infringement to the exclusive right of its holder. This behaviour could expose you to legal action from this third party and to a judgment to pay damages. Generally, you must obtain the permission or rights in order to reproduce any protected material.
This is all actually pretty true! They've got some good lawyers over there. It seems almost friendly though. It's like, "yo, we're just telling you some facts you may not be aware of, but probably are."
Please note that Videotron will not take any action against you, but if legal actions were to be brought against you by the plaintiff, we would have no other alternative except than hold you responsible for any damages you may have caused.
It's not our fault! We're just doing what some giant media company is telling us! We wash our hands of the whole thing!
And let's talk about "any damages you may have caused." If anyone out there can tell me how much money the copyright owner lost by one person downloading HIMYM (which, btw, you can watch free online), you're a better lawyer than me.
We thus ask you to cease any activity that may be considered an infringement of a third party's intellectual property rights.
A wise (computer-generated and fake) person once said that "asking is just polite demanding" (warning: link has auto-played sound). I am not sure that applies here. Videotron is asking nicely that Mr. X ceases. It's not the same as "stop it or we'll cut off your internet access." That does kind of reflect the state of the law in Canada though. And I like the "please stop the things that may be infringing" vibe of the request. Better to be safe than sorry according to Videotron. Plus your downloading is really killing our bandwidth.
Because of privacy concerns, we cannot give any information regarding the plaintiff, as we do not provide any information to the plaintiff about you except if ordered by a court of law. If you want to know who the plaintiff is, you can search on the internet who is the copyright owner of the material referenced in the complaint.
I really love this. "We got a complaint, we can't tell you from who, but hit the Google and you can easily find out!" (it's 20th Century Fox). Don't blame us!
Thank you in advance for your cooperation.

Yours truly,
etc.
It almost could have said "warm regards,".
The email also has a lot of technical info. The name of the downloaded file, the date, the filesharing protocol, and very specifically, the infringing IP address and infringing DNS. At some point, Videotron had to convert that data supplied in the complaint to Mr. X's customer information. What the email doesn't mention is whether they turned that info over to 20th Century Fox. I guess we'll see.
Bringing it back to the new copyright law for a second, you may think that this email was reflective of the new notice and notice scheme that Bill C-11 has as part of it. But when the new law came into effect, the notice and notice provisions were put on hold so that we could get some regulations as to how the scheme will work. So I guess Videotron is just getting in some practice.
It remains to be seen whether a huge wave of lawsuits is really coming against individuals like Mr. X. In fact, the whole point of that $5000 cap was to discourage those lawsuits. Looks like copyright owners may have a different idea.
*note to the Barreau du Québec – Mr X. gave me permission to write this and approved it prior to posting