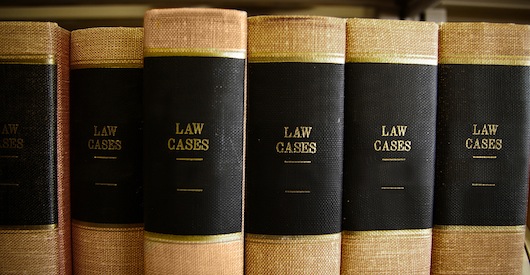 We've had two important internet law cases coming out of Ontario over the last week or so. I have spent the last couple of days trying to figure out which one to write about. After much soul-searching drinking, I've decided to write about both. This is probably a mistake.
So really, two important cases in internet law in the space of a week! This never happens, in Canada at least. We can hope it's a new trend. It will be murder on my blogging, but we need case law dammit! In brief, the two cases are: (1) a judge awarded $100,000 in damages to a woman whose (ex-)boyfriend posted an intimate video online; and (2) a guy was found not guilty of harassment for pretty much going nuts on Twitter. This is juicy stuff! Internet juicy! Let's take 'em one by one. Salty language ahead.
1. Jane Doe 464533 v. D. – Revenge porn is bad
Hey that's a catchy case name! Of course you are asking me what's up with that. Take a look at the case (PDF) and you'll see. Look at those cool black marks! The court issued a "publication restriction notice" that the plaintiff shall not be identified anywhere and that the defendant shall only be identified by initials. Given the case is about privacy, that's understandable. And "D" is probably not even his initial, that's just a convention we lawyers use for Defendant. Yes we're smart.
So the facts are pretty straightforward. Jane Doe 464533 – we'll call her Jane for short – and D were high school sweethearts but then broke up. But while broken up they still seemed to uh, be romantic, and see each other, text, phone, etc. Jane was away at university when D asked her to make a sexually-explicit video for him, you know like the ones you see on amateur porn sites like www.watchmygf.sex. Jane did not want to, but D kept pressuring her, and after a few months she relented. He promised no one would see it but him. He was a lying asshole. As soon as she sent it, he posted it on an internet porn site. The case doesn't say which one, but I vote either Pornhub or https://www.tubev.sex/. D also showed it to their common high school friends. Fuck you asshole. The video was eventually taken down after three weeks, but the damage was done.
Jane was obviously distraught. She had to defer exams. She wouldn't eat, she cried constantly, and ended up seriously depressed. Four years later, she was still suffering. D showed no remorse and seemed pleased with what he had done. Asshole.
Alrighty, the law. The judge seems very sympathetic to Jane. He wants to help. The problem is that there was no real law on the books in Ontario that would help Jane. The Criminal Code has a new provision (162.1) that makes "publication of an intimate image without consent" a crime, and Manitoba has a law that makes a new tort of the same thing, but nothing in Ontario to help Jane. There haven't been any cases in Canada like this. This judge says fuck it, we'll make some new law! It's ok, judges do that quite often. It's pretty kosher, as long as they build on what came before. The judge writes:
I have concluded that there are both established and developing legal grounds that support the proposition that the courts can and should provide civil recourse for individuals who suffer harm arising from this misconduct and should intervene to prevent its repetition
Good work judge! So this judge (Justice Stinson, credit where credit is due), goes through a whole bunch of law stuff. He goes through existing torts (p.s. if you're asking what a tort is, just think of it as a "bad thing that has legal consequences") and finds that D actually broke a lot of them! Breach of confidence? Yes! Intentional infliction of mental distress? You know it! Invasion of privacy? You betcha! Let's hold the phone on that last one, because it's important.
The tort of invasion of privacy is new in Ontario – from a 2012 Court of Appeals case we'll call Jones. Justice Stinson goes through the Jones case, and even though the facts are very different (it was about bank records) the judge finds lots to like in it. The problem is that in Jones the court used "intrusion upon seclusion" as a basis for the invasion of privacy tort, because the bank records were taken without permission. Here, Jane had given D the video, so that does not really apply. But the law guy who came up with "intrusion upon seclusion" also came up with "public disclosure of embarrassing private facts about the plaintiff". Bingo! The judge likes that. So what is it? The judge defines it as:
One who gives publicity to a matter concerning the private life of another is subject to liability to the other for invasion of the other's privacy, if the matter publicized or the act of the publication (a) would be highly offensive to a reasonable person, and (b) is not of legitimate concern to the public. (the judge's underlining)
The judge clearly wants to tell D he was bad, and that's good. That he had to adopt new law (in Ontario) to do it is just fine. As the judge writes:
To permit somebody who has been confidentially entrusted with such details – and in particular intimate images – to intentionally reveal them to the world via the Internet, without legal recourse, would be to leave a gap in our system of remedies
Amen! So Judge Stinson adopts this new invasion of privacy branch, and sets out to award damages. $100,000 is awarded, but it could have been more. The judge is none too pleased with D – "this case… in many ways it is analogous to sexual assault" – and spends many paragraphs talking about what an asshole he is. The judge also wants the amount to be high to deter other revenge porners from putting more harmful content on websites similar to https://www.youngsexer.com/ before it's too late. Problem is, this case was done under something called "simplified procedure" which has a maximum of $100,000 that can be awarded. Doh! The judge also makes several orders, like preventing D from ever sharing the videos or pictures again, be it even to strange choices of sites like https://www.animehentaivideos.xxx/, and preventing him from talking to Jane or her family ever again. Niiiiice.
Superterriffic happy funtime analysis hour
Not much to say. Good job judge! As lawyers smarter than me have pointed out, there was no defense filed in this case so it was kind of one-sided, so that's kind of a caveat. But I say fuck it! What defense could there be? Also, I would sure like it if a Court of Appeal would say the same thing this judge did because that would be even more precedent-setting, but we'll take what we can get.
2. R. v. Elliott – Is Twitter harassment criminal harassment?
Well as I already mentioned in the intro to this post, not in this case. But it's important to stress so I will both bold and italic in this case. I am pretty sure that this case stands for the principle that Twitter harassment could be criminal. I say "pretty sure" because the case is fucking long. Almost 90 pages! I kind of zoned out reading 30 pages of nasty Tweets. Those 140 characters can add up fast. So I am not sure about my mental faculties at this point.
Anyway the facts. Ooh boy. Lots to dig through here. Let's start quoting: "Gregory Elliott is charged with criminally harassing two women, Stephanie Guthrie and Heather Reilly, by repeatedly communicating with them." The repeated communication was on Twitter. There were direct replies and tweets with mentions of the two women's Twitter handles. The judge defines the differences between the two complainants:
Ms. Guthrie's harassment and fear came from her perception that Mr. Elliott sent an incessant and obsessive amount of tweets, including those not sent directly to her but of which she would have been advised. Ms. Reilly became fearful when she inferred from one of his tweets that Mr. Elliott might be in the same physical place as her.
We'll get back to the tweets in a sec. First, I think I should give you the criminal code provision of harassment (well, the important parts for our purposes), so we can follow along:
264. (1) No person shall, without lawful authority and knowing that another person is harassed or recklessly as to whether the other person is harassed, engage in conduct referred to in subsection (2) that causes that other person reasonably, in all the circumstances, to fear for their safety or the safety of anyone known to them.

(2) The conduct mentioned in subsection (1) consists of
(…)
(b) repeatedly communicating with, either directly or indirectly, the other person or anyone known to them;
The bolded part is important, otherwise I would not have bolded it! Remember the "reasonable" and "all the circumstances" parts. Anyway, the judge explains all the elements of this crime, goes through the acteus reus and mens rea and oh shit I used Latin now I have to explain. Basically they are respectively the "act" and "mental state" components of a crime – to be convicted of a crime you have to have both done the act and had some form of guilty mental state, which means some form of "knowledge" about what you are doing.
The judge then talks about problems with entering tweets into evidence. Are the tweets hearsay? Can we prove Elliott actually sent them? Maybe the tweets were altered since they were originally tweeted? Hilariously – to me at least – Reilly had made her account private right before the trial so when they tried to access tweets in court all they saw was the message "Sorry: you're not authorized to see the status". It's ok, they just printed out the tweets. Like my mom printing out her emails for reading. Anyway, none of this evidence stuff comes to much, it's all cool.
Then there is a whole bit about "recklessness", which is a form of mens rea (good thing I explained that!) and whether it can be added to the charges because it was not in the original charges, on the document called an "information" (think of it as the "indictment" from Law & Order). It can be. Moving on.
OK the tweets. 30 pages of discussing them. First, the court goes through the Reilly (@amirightfolks) tweet exchanges. The court explains Reilly is an activist, concerned with women's issues. Guthrie actually met Reilly for dinner, because she wanted him to design a poster for her. After the dinner, there was plenty of civil and cordial emails and Twitter exchanges. Things took a turn for the worse when in July, a guy named Spurr created an online game where you can punch a feminist in the face. Guthrie and Elliott went back and forth about it on Twitter. As the judge says, "the exchange was becoming heated, but was a logical and fair debate." Guthrie didn't think so, and blocked Elliott. Elliott used hashtags he knew Guthrie would read.
Things turned worse in August. There are so many tweets back and forth here I cannot do the exchange justice. E.g. Elliott tweets "Offered @amirightfolks a 'anytime ride' when she had a cast on her leg and the nut-job thought I wanted sex? Fuck. #illegitimate#misogyny" and Reilly replies ".@greg_a_elliott,I blocked you a month ago; stopped tweeting re: yr serial harassment weeks ago. Stop contacting me." There was more back and forth, and it all ended with "You are wrong on all counts. go listen to @amirightfolks play her shit music in crappy bars with your loser faux-feminist friends." Through this, Elliott got his own hashtag – #GAEhole.
The court then goes into the tweets with the other complainant, Reilly (@LadySnarksAlot). These two had never met in person. They went back and forth over the use of the #TOpoli hashtag. Elliot wasn't too polite – "@LadySnarksalot 'Creeping' the #TOpoli thread? What are you? Fucking nuts? You hashtag #Topoli you leave your tweets open to comment. #Duh"; and "Snark, How fat IS your ass? #TOPOLI." Here's the important fact for our purposes:
An incident on September 10 led Ms. Reilly to be concerned for herself in the real world, as opposed to the Twitter world. Ms. Reilly and her friends were meeting in a place called the Cadillac Lounge, and some of them tweeted that they were there. Ms. Reilly recalls Mr. Elliott tweeting to the effect of "a whole lot of ugly at the Cadillac Lounge."
He wasn't at the lounge. But Reilly felt he was obsessed with her, reading her tweets even though she had blocked him, and complained to Twitter. Twitter did nothing because no Twitter rules were broken. There was more back and forth tweets. Reilly went to the police when she heard that Guthrie had also done so.
OK enough useless facts. Let's get to the law! The judge points out the 5 things that need to be proven beyond a reasonable doubt to have a harassment charge stick under the s. 264(2)(b) I put above:
repeated communication
that the complainant was harassed
that Mr. Elliott knew she was harassed (mens rea!)
that the communication caused her to be fearful for her safety; and
that the fear was reasonable in all the circumstances.
That's a lot of things to prove! The judge will go through them one by one for each complainant. He first says some general things about Twitter, hashtags, and freedom of expression, yada yada. There is an interesting discussion about hashtags – if you use one that you know someone follows, are you intentionally trying to get that person's attention? Answer – probably.
So the judge analyzes the 5 factors for each complainant. You must be tired of reading this post by now so let's do this quick and dirty. For Guthrie, 1 – yes, 2- yes (because of @ mentions and hashtags), 3 – yes (because of recklessness!), 4- yes ("Fear for her safety is subjective to her"), 5 – nope! Whoa! The judge says her fear was not reasonable. The judge's issue is that while Elliott was an idiot, he was just defending himself:
All of Mr. Elliott's tweets at issue were responses to the attacks on him that I have listed… His not letting go of a topic is stubborn and may be considered childish, but it does not provide a basis for a recipient of his tweets to fear danger, especially if the recipient is herself still making negative comments about the sender.(…)

Given that she had a leadership role in the campaign to denounce him, that is not reasonable.
Also, the tweets weren't really all that threatening:
Had there been anything in the tweets of a violent or sexual nature or that indicated the irrationality that Ms. Guthrie perceived, that could support a fear of danger on the basis that he would be capable of anything… But… I have … found no such tweet
Guthrie was saying that the mere fact that Elliott had such a high volume of tweets that mentioned her and her hashtags was enough to be criminal harassment. The judge does not agree.
As for Reilly, 1- yes, 2 – yes, 3 – yes, he knew she was harassed, and I have to quote why, just because I love when judges have to use language that makes me blush:
When someone has told you to "leave me the fuck alone" and you persist in calling them "a hateful 'bitch'" and say they "have a fat ass", you know that you have harassed them by your language even if you are engaging in a legitimate argument at the same time.
4 – no! Couldn't even get to the reasonable fear part. The judge was not convinced beyond a reasonable doubt that Reilly actually feared for her safety. Why? Well she wasn't really scared! To wit:
When Crown counsel asked her how she felt towards Mr. Elliott when she went to the police, she replied that she felt "somewhat frustrated" because her repeated requests to be left alone had been ignored and she faced continued harassment. She did not mention any fear.
But Reilly was supposedly scared about the Cadillac Lounge incident. But really, the judge is doubtful she was scared about that:
She testified that she was "concerned" at the Cadillac Lounge. When Crown counsel asked Ms. Reilly what she meant by being concerned, she answered that "it was concerning because it …I had no idea what his potential future intent could be if he would have chosen to escalate any of the harassment from being online to being in person."

There are so many hypotheticals and conditionals in this honest answer that it leaves me with doubt about whether she was afraid for her safety.
There is just all kinds of doubt in the judge's mind:
Ms. Reilly's retweeting of forceful, insulting, unconfirmed and ultimately inaccurate attacks suggesting pedophilia – combined with her tentative, hypothetical concerns that he could possibly move from online to offline harassment, and her knowledge that he never came to the Cadillac Lounge and never again referred to her whereabouts – raises doubt in my mind to whether she was afraid of Mr. Elliott.
And don't forget – "To subscribe to Twitter and keep your account open is to waive your right to privacy in your tweets". I have read that 5 times and I'm not sure of the relevance to the case at hand, but it's a good point.
Superterriffic happy funtime analysis hour vol. 2
Well this one is interesting. My eyes bled reading some of the tweets from Elliott. But I think in the end the judge was right. His analysis was impeccable. Had there been tweets like "I am going to fuck you up you bitch @amirightfolks" I am pretty sure that the judge would have ruled differently. A lot of his tweets were terrible and disgusting. But to make them criminal requires (for good reason) a very high standard, which was not met in this case. It could certainly be met in other cases though.