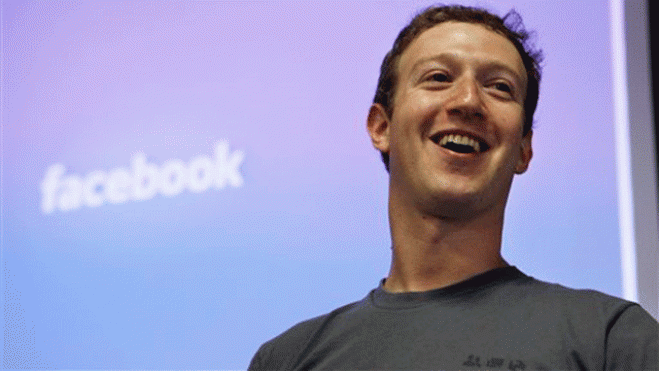 Last week a decision came out of a Montreal courtroom that will deny us the joy of possibly going to see some lawyer grill Mark Zuckerberg on the stand about money and Facebook. We haz a sad. That would have been awesome.
The case is known as, or more accurately was known as, Mouaikel v. Facebook. Its full name needs its own blockquote:
ESSINE EID MOUAIKEL v. FACEBOOK, INC. and MARK ZUCKERBERG and PETER A. THIEL and MARC L. ANDREESSEN and ERKSINE B. BOWLES and JAMES W. BREYER and DONALD E. GRAHAM and REED HASTINGS and ALLEN & COMPANY LLC and BARCLAYS CAPITAL INC. and GOLDMAN, SACHS & CO. and J.P. MORGAN SECURITIES LLC and MERRILL LYNCH, PIERCE, FENNER & SMITH INCORPORATED and MORGAN STANLEY & CO. LLC and RBC CAPITAL MARKETS, LLC
So given that last group of defendants, you may have guessed this is about money. Give yourself a gold star! In fact it is about money, more specifically Facebook's IPO back in May of 2012. You may remember that IPO as pretty much a disaster. You'd be right! There were all sorts of allegations of insider info, and the initial price of $38 per share plummeted down to the 20's pretty quick (ironically, it's now up to $44). Lots of people lost of money. They sued.
Here in Quebec, Mrs. Mouaikel lost money when she sold her shares at $29 (should have held!). Now she wants to sue, here in Quebec. She asked the Court to authorize a class action lawsuit against Facebook, Zuckerberg, Facebook directors, and the brokerage firms involved in the IPO. We've covered the rules for class actions before around here, so go read that for some background on that. Today's legal lesson is about jurisdiction. And unfortunately for those of us wanting to see Zuck on the stand, why Quebec doesn't have it in this case.
First, we need to learn the basic rule of suing someone in Quebec when there is no contract involved. It is found in article 1457 in the Civil Code of Québec, and it was neatly summed up on the blackboard by my first year law professor as:
Fault + Injury + Causation = $$$$$$$$
Now, if all the parties are in Quebec, a Quebec court will automatically have "jurisdiction", meaning they can hear the case. But what if one of the parties is outside Quebec? Well, we have rules! They are also found in the Civil Code, and the one at play here reads as follows:
3148. In personal actions of a patrimonial nature, a Québec authority has jurisdiction where
(…)
3) a fault was committed in Québec, damage was suffered in Québec, an injurious act occurred in Québec or one of the obligations arising from a contract was to be performed in Québec
Now, don't worry about that "personal actions of a patrimonial nature" bit, that's just lawyer talk for people arguing about money. If fault, damages, or an injurious act occured in Quebec there would be what the lawyers call a "real and substantial connection" to the province and we could have jurisdiction. In this case, the (alleged) bad things Facebook and the brokers did was not in Quebec, so the only possible connection to give a Quebec court jurisdiction was if damages were suffered in Quebec (that's why I bolded it for you!). Here, Mrs. Mouaikel said she suffered damages here because she lost the money here, so she (and all the people she wants to represent in the class) should be able to sue here.
Per the Court: DENIED. (I'm paraphrasing). The Court goes through a bunch of past cases that describe what it means to suffer damage in Quebec. The past cases were all pretty unanimous that just recording a financial loss in Quebec is not enough to count as "damages" happening here. So the Court concludes:
…Nothing happened in Québec other than the recording of the petitioner's loss in her brokerage account. Based on the legal principles cited above, it cannot be said that the petitioner suffered damage in Québec within the meaning of article 3148(3) CCQ.

[22] In the absence of proof that the petitioner suffered damage in Québec as a result of a material event that occurred here, there is no basis to conclude that a real and substantial connection exists between the alleged facts of her motion and this Court, which consequently has no jurisdiction to hear the present matter.
So that's that. The Court added as a side note that even if there was damage here, New York is a much better place for such a lawsuit, and there is already one there (that I linked to above), so they would have declined jurisdiction anyway. It's a perfectly sensible reasoning and decision, but boy I wanted to see this class action go forward here in Montreal. I would have Tweeted the shit out of that thing from beginning to end.
Speaking of Twitter, this decision is pretty interestingly timed considering Twitter's just-announced filing for an IPO. Let's hope Twitter learned some lessons from Facebook. Or not. We'd love another round of lawsuits.