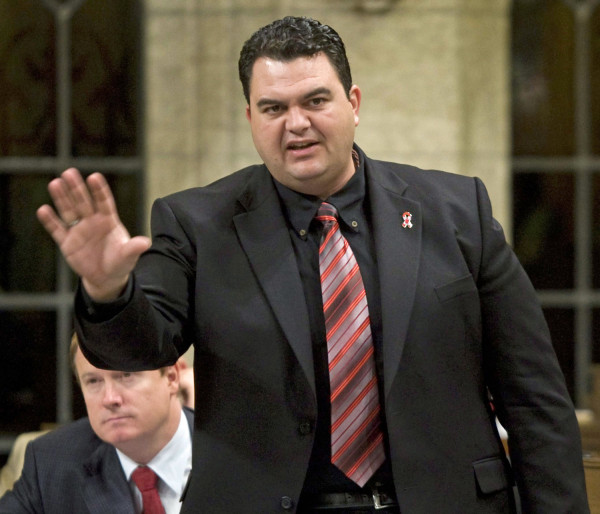 Greetings, interwebz! It is I, anonymous internet blogger and commentor HabsFan29. My good friend Allen Mendelsohn has turned over the blog to me for just this one time, so that I may opine gracefully and eloquently on the wisdom of forcing people to comment on the internet using their real names, as Conservative MP Dean Del Mastro wants. Thanks, Allen! Anyway, here's what I think. Fuck Dean Del Mastro, that useless ignorant piece of crap election-frauding fat fucking dipshit.
Oooh, that felt good! Just like old times. Let's take a step back here for a second. I am sure Allen would want me to intelligently explain what the fuck is going on here. Last Friday, Deal Del Mastro, who in addition to being an MP is in fact Parliamentary Secretary for PM Stephen Harper, wrote what I guess he thought was an innocuous little post on his Facebook wall. Instead, it opened up a shitstorm. Let's reproduce the whole thing here, for posterity:
One of the best ways to end on-line and electronic bullying, libel and slander would be to force people posting hurtful comments to properly identify themselves. This morning I read comments on a news story posted on an electronic news publication, many of them could only be described as hateful rants. The common denominator is that none of them identified the person that wrote them; this strikes me as something that parliament should address.
I bolded that last part because Allen would have wanted me to; it's what turned a semi-reasonable discussion about online discourse into idiocy. We have a Conservative (small government, yay!) MP saying we should legislate against anonymity on the internet. Fuck that shit. If I want to be known as HabsFan29 when I describe Mr. Del Mastro and indeed the entire Conservative government as pathetic lamefuck corporate whore dickwads, I should be allowed to do so.
OK let's look at the statement one fucked-up line at a time:
One of the best ways to end on-line and electronic bullying
Online bullying is terrible. I am not immune to the horrible tragedy of Amanda Todd. But if an MP thinks that forcing people to use their real names would have stopped that tragedy, he's got a fucking screw loose. Also, there are already efforts in Parliament to do something about online bullying. But as usual, a Conservative has his own approach – throw a king-sized blanket over a pin-prick hole. Sound familiar? Vic Toews would like you to forget that type of approach.
libel and slander
Libel and slander are problematic on the internet. So are a lot of other things, both criminal activities and things that could be subject to civil actions. But guess what? Even if you do those things anonymously, you're not anonymous. You can be tracked down. How many times has Allen written on this very site about the Courts saying it was OK for ISPs to turn an IP address into a real person? Shit, he just wrote one a couple of weeks ago! If the cops want to arrest someone, if you want to sue someone, you'll have a pretty easy time of finding out who the "anonymous" person is. Courts all over the world are already killing internet anonymity, when the circumstances warrant. To throw out the baby with the bathwater is fucking stupid.
many of them could only be described as hateful rants. The common denominator is that none of them identified the person that wrote them
Fuck and yes! That's the whole point of the internet, you useless fuckstick. There is a real point to internet anonymity – it allows for full freedom of expression. Let's say (for example) that a well-respected lawyer wanted to blog about the Montreal Canadiens, using salty language about how the Habs fucking suck and glorious photos of half-naked women. He may need to hide that from his well-respected law firm employer. I'm just saying. Let's say that a long-standing employee of the Department of Justice wants to go on the Globe and Mail website and rant in the comments about the stupidity of Bill C-30. If he wrote it under his real name, would he be in trouble? Yes! Anonymity allows for the true exchange of ideas. That's what the internet is for.
Yours truly wanted to be anonymous on the internet. I wasn't committing crimes or anything, but I felt I couldn't really say what I wanted in the way I wanted if I had to fear reprisals In Real Life. It didn't last long, as I was outed by the CBC and really, anyone with half a brain and an internet connection could have figured it out. And in the end, I went to a job that didn't give a shit and once my mom knew who I was, I really didn't give a fuck anymore. But I was not a Justice Department employee or a lone Syrian dissident who needs anonymity to keep their job, or their life. Anonymity isn't just a by-product of the internet, it's a necessary element thereof.
Fuck Dean Del Mastro.
Will you agree (anonymously) in the comments?
[Ed.'s note 1: an old-fashioned FHF lap dance to moeman (site possibly NSFW) for the tip]
[Ed.'s note 2: to readers who don't know my online history, Allen and HabsFan29 are in fact both me. But you figured that out already, I'm sure.]