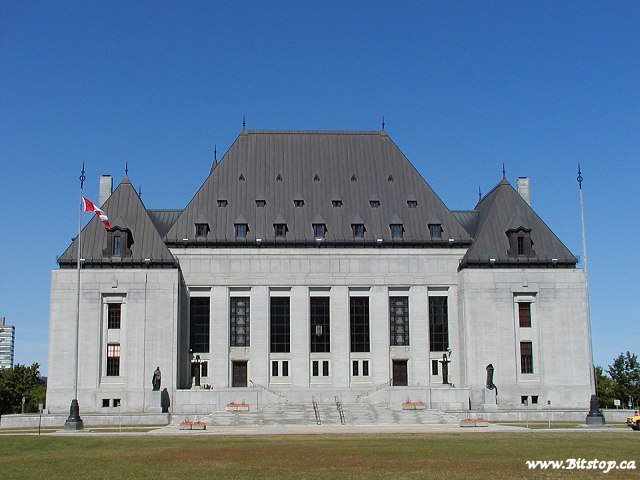 This week at the Supreme Court of Canada (SCC) is a HUGE one for copyright, and by extension for internet law. Today and tomorrow, appeals are being heard in five cases that will shape copyright law for years to come. Or until C-11 gets passed and that mess makes it to the Court. ANYWAY, Geist has a basic summary for you about some of the issues that are being heard. Here's another one. And another. Sure, one more.
The big cases for the internet are SOCAN v. Bell, where the Court will decide if iTunes snippets for preview are fair dealing or not, and if they aren't they then would be subject to a tariff (payment to the artist). There's also Rogers v. SOCAN about streaming music and whether it's "communications to the public" under the Copyright Act (which is important because it would then be protected as copyright in that stream, and subject to royalty payments). Finally, ESAC v. SOCAN (sensing a trend here?) will decide if music in video games downloaded over the internet should be subject to, you guessed it, royalty payments. (The other two cases are about copying works for use in the classroom and remuneration for music in movies and TV. Yawn.)
These are such an important two days in the copyright and internet law world I thought about live blogging the hearings. But I'm not insane (well…). You can watch the hearings here. Yay for an open Supreme Court! But dammit they need some onscreen graphics or something. Even I'm kind of clueless as to who's who, or even what case is being heard.
UPDATE – good Tweeters to follow along the hearings: Geist, Hayes, Glick, me. #SCCcopyrightpentalogy