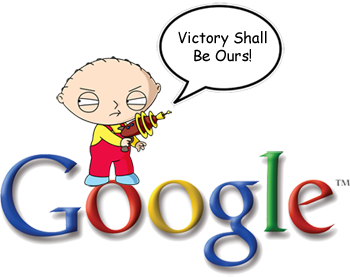 Pretty slow news week in the world of internet law in Canada. Apparently we can't have a big CRTC decision every week. Tragic, really. So let's have a little fun. We've got some internet news that's not law-related out of Google, as yesterday they announced that they are killing off seven Google products due to suckiness. Let's take a look at the products you won't miss after the jump.
Google Knol – Described as a "Wikipedia-like project". Well I've got news for ya Google, the internet already has a pretty useful Wikipedia-like project, and it's called Wikipedia.
Google Bookmarks – share your bookmarks with your friends. So, Delicious basically?
Google Wave – at my old job, I remember being very excited about Wave, and we all signed on. Then we tried to use it, and we realized we had no fucking clue what the thing actually did, or what we were supposed to do with it. When a group of web programmers and web experts can't figure out what your web product is, you're doomed to failure.
Google Friend Connect – a way to make your website or blog more social somehow. Aren't blogs already social? Over the years, I have been part of four different Blogger blogs (owned by Google) and I never even considered using this service. Or even knew what it was.
Google Gears – a way to have online functionality offline. You know, because we're always offline now. Part of the problem may be that according to that Gears landing page, you require Firefox 1.5-3.6 to run it. My Firefox 8 just isn't supported.
Google Search Timeline – I always thought this was a pretty cool, if totally useless feature. Ooh look, pretty graphs! It already seems to be gone the search results pages. That's some good internet speed, Google!
Renewable energy cheaper than coal – or more simply RE<C. No snark here, this is just sad to be honest. If a company with a market capitalization of 185 billion can't spend some dough to make this world a better place, who can? And this is especially true considering how much power Google itself uses.
So that's it. A bunch of stuff that either was useless, not understandable, or something that someone else was already doing. You know, like Google + / Facebook.